Liberty & Co. to 'Liberty Style'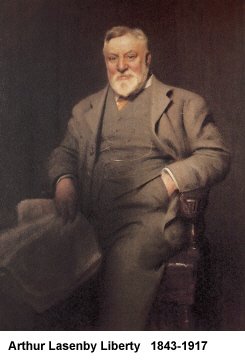 The London store Liberty & Co was founded by Arthur Lasenby Liberty (1843-1917) in 1875. The shop specialized in selling ornaments, fabric and objects from Japan and the Far East. The Liberty department store was crucial in introducing and popularising Japanese arts and crafts in the West and was an enormous influence on British artists and designers. The company became synonymous with this new style, at the end of the 19th century, to the extent that in Italy, Art Nouveau became known as Stile Liberty after the London shop.
Arthur Lasenby Liberty was born in Chesham, Buckinghamshire in 1843. He was employed at Messrs Farmer and Rogers in Regent Street in 1862, the year of the International Exhibition at Kensington in London. By 1874, inspired by his 10 years of service, Arthur then decided to start a business of his own, believing that he could change the look of home wares and fashion.

With a £2000 loan from his future father-in-law, Arthur Liberty took on the lease of half a shop at 218a Regent Street with only three staff. Within eighteen months he had repaid the loan and acquired the second half of 218 Regent Street. The store became the most fashionable place to shop in London and iconic liberty fabrics were used for both clothing and furnishings. Its clientele was exotic, and included famous members of the Pre-Raphaelite movement.
In the 1890s Arthur Lasenby Liberty built strong relationships with many leading English designers and studios such as Arthur Silver and the 'Silver Studio' Many of these designers were key figures in the Arts and Crafts and Art Nouveau movements and Arthur Liberty was instrumental in the development of British Art Nouveau through his encouragement of such designers. The store became one of the most prestigious in London. Liberty later opened another store in Paris. With its evolution, Liberty & Co. quickly expanded to include fashionable clothing and furniture as well as decorative items such as vases, clocks, jewelry, textiles, and wallpapers.
Following fabrics and furniture the next stage in his expansion program was metalwork. Liberty had been selling silver and pewter from various sources for some time before he began production under the Liberty name.
Philosophically, Liberty was a great advocate of the machine but stylistically the firm produced furniture in the Arts and Crafts tradition. Liberty main goal for his store "was to combine utility and good taste with modest cost." leading to a highly successful combination of art and industry. Unlike other retailers of Art Nouveau products both in England and continental Europe, Liberty kept its manufacturing costs down in order to in turn keep its prices low. This differed greatly from the one of a kind, and therefore expensive, Art Nouveau objects offered by most other retailers such as La Maison de l'Art Nouveau in Paris, which was founded by Siegfried Bing. Liberty himself said that his store aimed for "the production of useful and beautiful objects at prices within the reach of all classes."
In 1899 Archibald Knox began designing for Liberty particularly the new Celtic design work such as 'Cymric' and 'Tudric' range, (silver and pewter respectively). Their Cymric catalogue states, "The feature of this development is, its complete breaking away from convention in the matter of design treatment". In addition to metalwork and jewellery Knox designed terracotta garden ornaments, carpets, wallpaper and fabrics for Liberty & Co, seemingly mastering each discipline with ease. He was held in such high esteem that, even after his association with Liberty & Co had ended, in 1917 he was commissioned to design the headstone for Arthur Lasenby Liberty grave where it still stands at Lee, Buckinghamshire.